Des Moines, IA – The Iowa Area Development Group (IADG), on behalf of Iowa's rural electric cooperatives, municipal utilities and independent telecommunication companies, honored seven distinguished Iowa companies with the Iowa Venture Award at a luncheon held in conjunction with the Iowa Association of Electric Cooperatives' annual meeting at the Sheraton West Des Moines.
Christensen Farms & Feedlots, Inc. of Garner
Christensen Farms is being recognized for their most recent facility addition of a bio-security wash complex in the Touchstone Energy Park in Garner, Iowa. The facility is the company's sixth, and was built to ensure all trucks and trailers are washed in a timely manner in accordance with all bio-security procedures and guidelines. The facility consists of three buildings: a truck wash, a wood chip storage building, and a bio-dry building. The purpose is to stop the spread of disease and help manage the health of the company's animals. Christensen Farms operates in six states and has approximately 1,000 employees, operating four feed mills, and managing 145,000 sows on 44 farms. They also oversee more than 250 nurseries and grow-finish sites. Christensen Farms & Feedlots, Inc. was nominated for the Iowa Venture Award by Prairie Energy Cooperative.
"The Iowa Venture Awards Luncheon provides a forum to celebrate the courage, contribution, innovation responsibility and vision of Iowa entrepreneurs," said IADG President Rand Fisher. "IADG, on behalf of our sponsors, is proud to recognize these seven outstanding companies for their contribution to their community, region and state."
Five additional businesses were recognized with an Iowa Venture Award for their significant contributions in diversifying and strengthening Iowa's economy. These 2016 Iowa Venture Award recipients include: Bratney Companies of Marshalltown; Concrete Machinery Inc. of Iowa in Paton; Great Lakes Communication Corp. of Spencer; Maassen Dairy Farms of Maurice; and Mogler Farms/Pig Hill West of Alvord. Iowa Secretary of Agriculture and Land Stewardship, Bill Northey, assisted in presenting the Iowa Venture Awards and honoring the Iowa companies and their leaders.
The 2016 "Outstanding Business of the Year" Iowa Venture Award was presented to Iowa Fertilizer, located in rural Lee County, near Wever, Iowa. Iowa Fertilizer is historic in many ways, including being the state's largest single-site construction project spanning 500 acres with capital investment of $2 billion. This is the first greenfield nitrogen fertilizer facility constructed in the United States in 30 years. The plant is expected to deliver 1.5 to two million metric tons of fertilizer products annually to farmers in Iowa and the Midwest. During construction, Iowa Fertilizer utilized more than 3,000 construction workers and created more than 700 ancillary jobs that helped revitalize the economy of the surrounding region. It is expected that the number of permanent employees will exceed 200 and have a lasting positive impact on the region. Iowa Fertilizer was nominated for a Venture Award by Access Energy Cooperative.
For 29 years, IADG has presented Iowa Venture Awards to individuals and organizations, both large and small, in recognition of their significant contributions to Iowa's economy through entrepreneurial leadership, innovation and the creation of job opportunities. History has demonstrated that these are among the most accomplished and successful companies in the state. Together they are helping to sustain and grow Iowa's economy. The Iowa Venture Award Hall of Fame showcasing these 248 companies can be found at www.IADG.com/HallOfFame.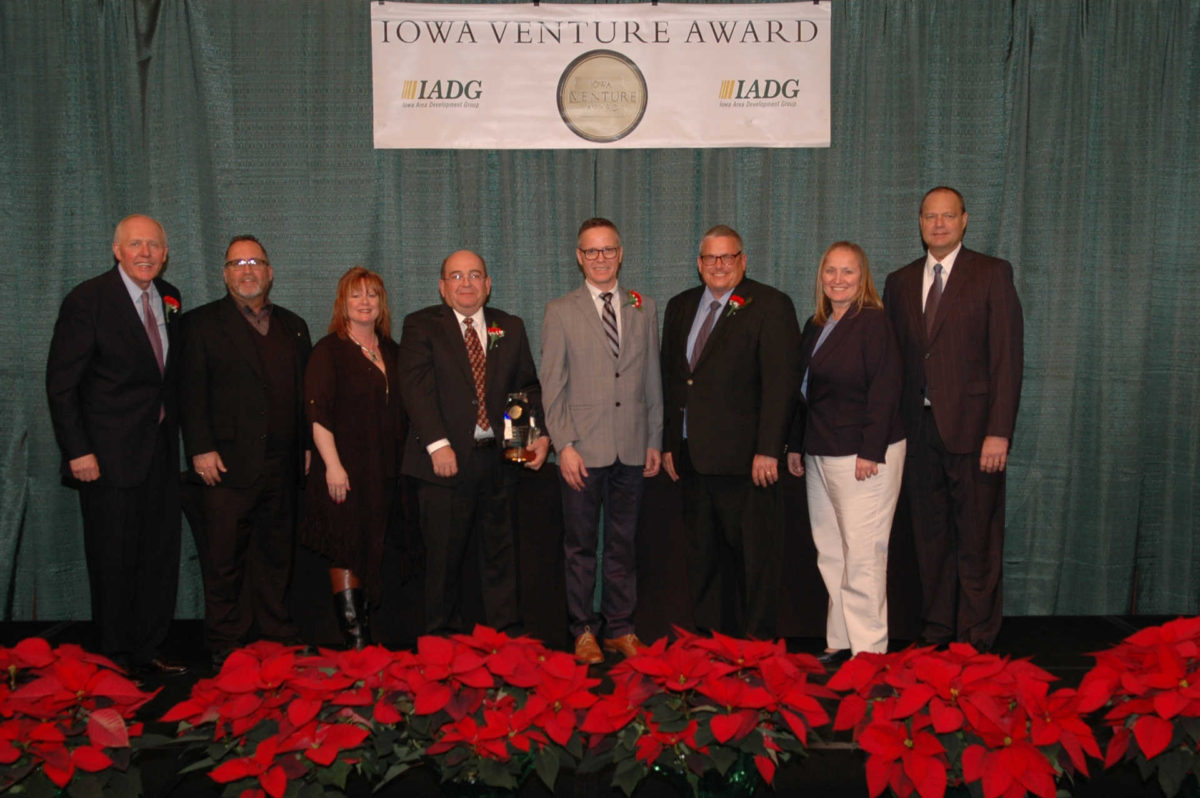 About Iowa Area Development Group (IADG)
IADG is the business and community development leader for Iowa's rural electric cooperatives, municipal utilities and independent telecommunication companies. Since 1985, the Powerful Partnerships and economic development efforts of IADG and their sponsors have assisted with more than 2,000 projects, generating in excess of $10.15 billion of capital investment and over 51,500 new or retained jobs for Iowa. 

Photo Caption:
Christensen Farms & Feedlots, Inc. of Garner, Iowa, received the 2016 Venture Award recognizing the company for its addition of a bio-security wash complex to it's facility in the  Touchstone Energy Park in Garner, Iowa.  Iowa's  Secretary of Agriculture, Bill Northey, presented the award on behalf of the Iowa Area Development Group L.C., (IADG).  Pictured left to right:  Rand Fisher, IADG; Todd Foss, Prairie Energy; Jill Kramer, Hancock County Economic Development; Bo Wright and Kirk Brincks from Christensen Farms; Bill Northey, Secretary of Agriculture; Becky Bradburn, Prairie Energy; and Jim Vermeer, Corn Belt Power Cooperative.

Contact:
Kay Snyder, Director of Marketing and Communications
515-493-9241; ksnyder@iadg.com