SLEEPY EYE, MINN. – Christensen Farms & Feedlots, Inc. hosted its fifth annual Organizational Awards ceremony on the evening on Thursday, March 7, 2019 in New Ulm, Minnesota. This ceremony recognized the 2018 Christensen Farms Organizational Award winners for their outstanding contributions to the Christensen Farms organization. The evening was spent honoring the 43 individual award recipients and six teams with the Christensen Farms Award for Excellence; and the four individuals with the Bob Christensen Award for Excellence.
This event brought together employees, friends and family from across all of Christensen Farms' five Midwest regions, including Minnesota, Iowa, Illinois, South Dakota and Nebraska to appreciate, celebrate and recognize the 2018 Organizational Award winners. These awards recognize individuals and teams within the organization, in every region, who strive to live the mission and values every day, perform at the highest level, consistently exceed expectations and are fully engaged in the business, no matter what role they play in the company, and lastly, how passion drives their purpose for the overall success of their fellow teammates and the business.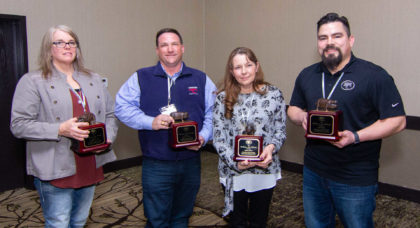 2018 Bob Christensen Award for Excellence winners (pictured left to right): Christina McCown, Brent Frederick, Sandy Forrey and Lupe Trevino.

2018 Christensen Farms Award for Excellence winners (in no particular order): Aaron Hacker, Adam Herzog, Adam Jacobsen, Adam Scofield, Anne Adkins, Arturo Bautista, Carlos Tovar Brostrand, Dale Richtsmeier, Daniel Carlson, Emily Johnson, Jake Holmquist, Jason Williams, Jeff Hrdlicka, Jeff Jakobitz, Jennifer Sauer, Jill Steffl, Jill Susa, JoDee Haala, Kevin Pals, Les Craighton, Linda Welch, Matt Burkett, Maurino Franco, Nancy Arndt, Natalie Fossen, Nate Julin, Nicole Juenemann, Phil Fischer, Randy Martinez, Rodrigo Teuber, Ron Schoo, Ryan Finer, Sam Tauer, Saw Eh Blue Htoo, Sergio Saldivar Frausto, Shawn Davis, Steve Meints, Susan Fix, Taylor Ask, Tony Guenther, Travis Illg, Trent Griesse, Tyler Pierson
Asset Management Leader Team: Jeff Hrdlicka, Ryan Domeier, Patty Guggisberg, Sydney Klimesh, Chuck Gillis, Jon Moldan, Korey Kieper
C23 Team: Tony Guenther; Ivan Bauer; Ronald Broders; Jeff Frederick; Gerrit Heine; LeRoy Robinette; Freddy Rojas; Jacob Walloch; Ivan Yonomine
IT Team: Timothy Jones; Nick Braam; Doran Dahle; Natalie Fossen; Jake Holmquist; Nick Honetschlager; Jeff Jakobitz; Dan Larson; Leah Rynda
ON (C00): Armondo Arellano Grandes; Arturo Bautista Ortiz; Isela Campoy Sotomayor; Fidel Castro Vasquez; Jesus Contreras Cano; Rosendo Cruz Guzman; Matthew Cullen; Shawn Davis; Daniel Diaz Torres; Carolina Elias Aguillon; Juvencio Garcia Barreto; Imelda Estela Garcia Lopez; Cynthia Alexandra Gomez Alvarez; Daniel Gomez Jarillo; Chris Hansen; Raul Hernandez Alvarez; Salustiano Hernandez Hernandez; Rafael Huerta Novo; Cesar Alberto Leon Manzanarez; Dennis Lines; Fabiola del Carmen Lopez Aguilar; Liliana Dinora LiLopez Ayala; Paulina Isabel Lopez Cobos; Juan Luna Luna; Sandra Marcelino Leon; Niria Damaris Mina Hernandez; Stephanie Montalvo Santiago; Hector Moreno Abarca; Hector Manuel Orduna Hernandez; Armondo Pantoja Aguiniga; Julio Perez Coronado; Deonicio Perez Hernandez; Roberto Ramirez Montes; Jamie Reiser; Itzel Rendon Viedma; Juan Jiuseppe Reynoso Gomez Farias; Aurelio Rivas Muro; Steven Root; Ma del Carmen Saldana Magana; Josue Sanchez Garcia; Douglas Simons; Franco Jesus Soto Suarez; Susan Stamp; Donald Tielke; Jorge Tlatoa Lopez; Kenneth Tunender; Jorge Urias Portillo; Francisca Velarde Alcantar; Penelope Vicenttin Eliosa
Thornton Region Pod (NGF): Carlton Frank; Tim Cooling; Jayden Engebretson; Patricia Gunter-Keeling; Jerry Jeffrey; Leslie Jellum; Crystal Marciniak; Mike Marciniak; Josie McMartin; Sara Pals; Tyler Synder; Nicole Templeton; Bri Viet; Michael Wixom
Trailer Wash Team – Sleepy Eye & Garner Locations: Trent Griesse; Dakota Schueler; Lee Arista; Jaime Garcia; Raymond Jager; Jesse Odegard; Robert Olson; Mike Ramirez; Jason Woods; Whitney Ackerman; Andrew Gatton; Aaron Hult, Sr.; Alan Mohlis; Ritchie Ruiter
About Christensen Farms & Feedlots, Inc.
Christensen Farms is one of the largest, family-owned pork producers in the United States, marketing approximately 3 million hogs per year. Headquartered in Sleepy Eye, Minnesota, the company operates throughout the Midwest with facilities in Minnesota, Iowa, Nebraska, Illinois and South Dakota. Christensen Farms owns four feed mills, manages 145,000 sows on 44 farms, and oversees more than 350 nurseries and grow finish sites. The company employs nearly 1,000 people and maintains 1,500 contract partnerships.
The company is vertically integrated with a strong presence across the pork value chain – from farm to fork. Christensen Farms is the largest shareholder of Triumph Foods LLC, a producer-owned primary pork processing plant in St. Joseph, Missouri. In turn, Triumph Foods members own 50 percent of Daily's Premium Meats, a specialty pork processor of bacon and other premium pork products. Triumph Foods also holds a 50 percent partnership in Seaboard Triumph Foods, LLC of Sioux City, Iowa, a primary pork processing plant.