SLEEPY EYE, MINN. – Christensen Farms & Feedlots, Inc. hosted its fourth annual Organizational Awards ceremony on the evening on Thursday, March 1, 2018 in New Ulm, Minnesota. This ceremony recognized the 2017 Christensen Farms Organizational Award winners for their outstanding contributions to the Christensen Farms organization.  The evening was spent honoring the 35 individual award recipients and two teams with the Christensen Farms Award for Excellence; and the four individuals with the Bob Christensen Award for Excellence.
This event brought together employees, friends and family from across three of Christensen Farms' five Midwest regions, including Minnesota, Iowa and Nebraska to appreciate, celebrate and recognize the 2017 Organizational Award winners. These awards recognize individuals and teams within the organization, in every region, who strive to live the mission and values every day, perform at the highest level, consistently exceed expectations and are fully engaged in the business, no matter what role they play in the company, and lastly, how passion drives their purpose for the overall success of their fellow teammates and the business.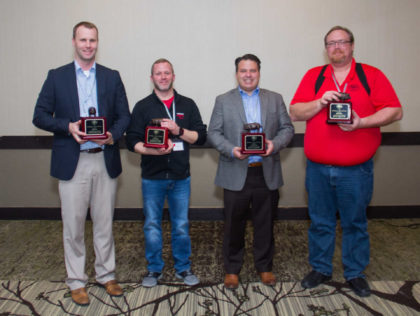 2017 Bob Christensen Award for Excellence winners (pictured left to right): Tim Fossen, Chris Hansen, Greg Howard and Mike Walker.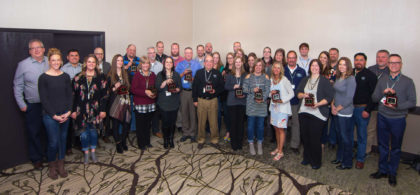 2017 Christensen Farms Award for Excellence winners (in no particular order): Mike Altermatt, Nancy Arndt, Craig Bradley, Kirk Brincks, Tony Domeier, Kyle Duxbury, Craig Faber, Phil Fischer, Natalie Fossen, Brandon "Giff" Gifford, Patty Guggisberg, Dustin Hauschild, Brian Heinrich, Samantha Hesse, Travis Illg, Emily Johnson, Nicole Juenemann, Shari Kretsch, Vicky Larson, Julie Lilleodden, Chrissi McCown, Brandi Pankratz, Megan Pauly, Gwen Roiger, Juvencio Salvador Garcia Barreto, Jennifer Sauer, Ron Schoo, Kelsey Seidl, Tyler Te Grotenhuis and Bo Wright.
Marketing Team – Taylor Ask, Craig Bradley, Tony Domeier, Neil Dovre, Kyle Duxbury, Dustin Hauschild, Travis Illg, Jordan Meyer, Dale Richtsmeier, Jennifer Sauer, Ron Schoo,  Jill Steffl and Carlos Tovar Brostrand. Not pictured: Keith Belstene, Shannon McClellan, Holly Johnson and Greg Southgate.
Not pictured: M6 Team (Sandra Forrey, Chrissi McCown, Patrick McCown, Tim Posey, Adam Robertson, Victor Shaffer), Adam Barka, JoDee Haala, Christin Ryer, Betsy Lown and Tom Ganske.
About Christensen Farms & Feedlots, Inc.
Christensen Farms is one of the largest, family-owned pork producers in the United States, marketing approximately 3 million hogs per year. Headquartered in Sleepy Eye, Minnesota, the company operates throughout the Midwest with facilities in Minnesota, Iowa, Nebraska, Illinois and South Dakota. Christensen Farms owns four feed mills, manages 145,000 sows on 44 farms, and oversees more than 350 nurseries and grow finish sites. The company employs nearly 1,000 people and maintains 1,500 contract partnerships.
The company is vertically integrated with a strong presence across the pork value chain – from farm to fork. Christensen Farms is the largest shareholder of Triumph Foods LLC, a producer-owned primary pork processing plant in St. Joseph, Missouri. In turn, Triumph Foods members own 50 percent of Daily's Premium Meats, a specialty pork processor of bacon and other premium pork products. Triumph Foods also holds a 50 percent partnership in Seaboard Triumph Foods, LLC of Sioux City, Iowa, a primary pork processing plant.