SLEEPY EYE, MINN. – Christensen Farms & Feedlots, Inc. hosted its third annual Organizational Awards ceremony on the evening on Thursday, February 9, 2017 in New Ulm, Minnesota. This ceremony recognized the 2016 Christensen Farms Organizational Award winners for their outstanding contributions to the Christensen Farms organization.  The evening was spent honoring the 24 individual award recipients and five teams with the Christensen Farms Award for Excellence and the Bob Christensen Award for Excellence to seven individuals.
This event brought together employees, friends and family from across three of Christensen Farms' five Midwest regions, including Minnesota, Iowa, Nebraska and Illinois, to appreciate, celebrate and recognize the 2016 Organizational Award winners. These awards recognize individuals and teams within the organization, in every region, who strive to live the mission and values every day, perform at the highest level, consistently exceed expectations and are fully engaged in the business, no matter what role they play in the company, and lastly, how passion drives their purpose for the overall success of their fellow teammates and the business.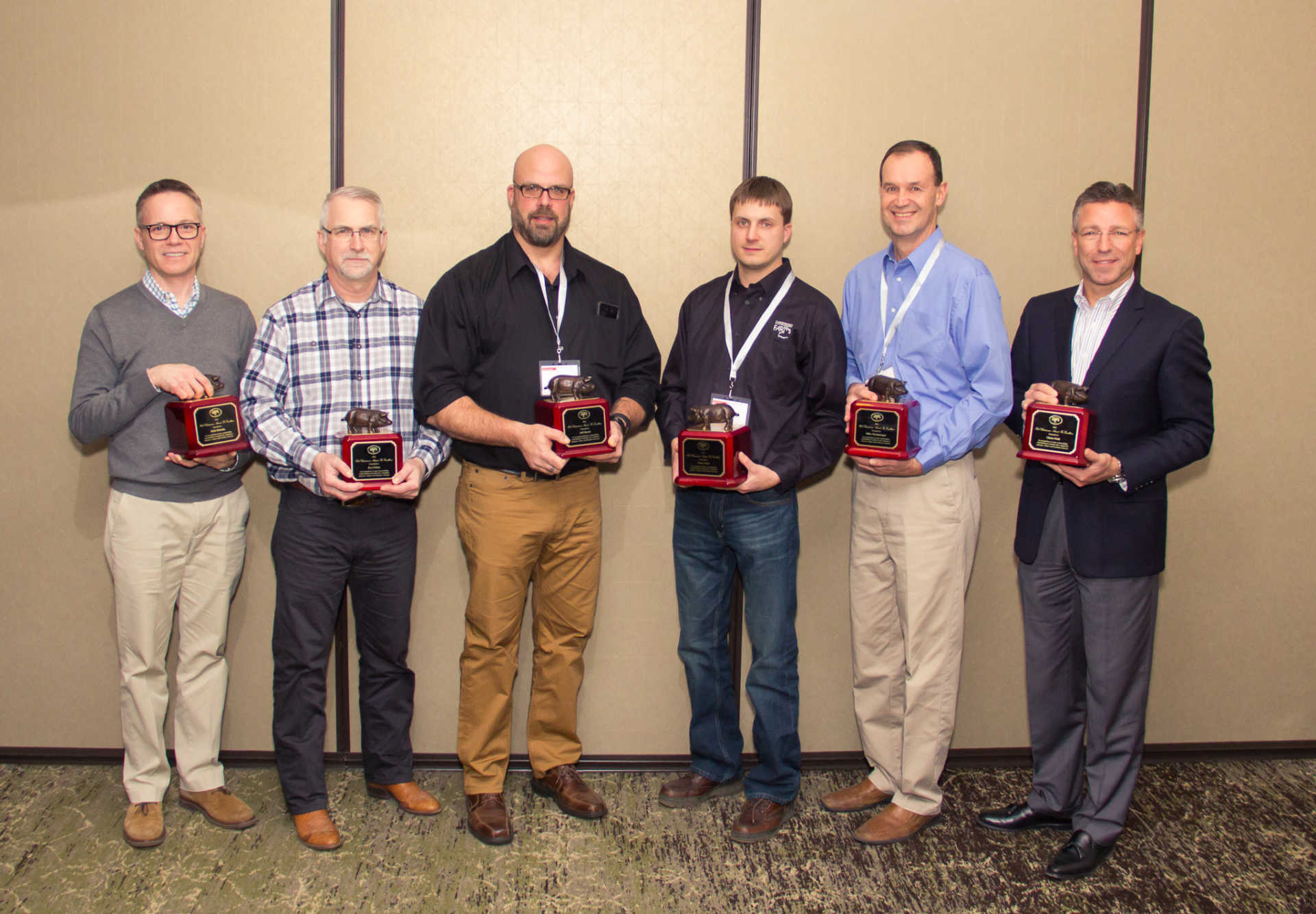 2016 Bob Christensen Award for Excellence winners (pictured left to right): Kirk Brincks; Ron Schoo; Jeff Rusch; Adam Dietz; Mike Eisenmenger; Glenn Stolt. Not pictured: JoDee Haala.


2016 Christensen Farms Award for Excellence winners (pictured left to right): Front row- Julie Lilleodden; Nancy Arndt; Kelsey Seidl; Daresa Stenzel; Mike 'Pugs' Hansen; Second row- Jill Hulke; Jackie Petermann; Angela Jensen; Alison Fromm; Jacque Heiderscheidt; Shelby Jensen; Sarah Krueger; Becca Pierson; Becca Trebesch; Chris Schmitz; Third row- Kenny Cummins; Mark Oldenburg; Doran Dahl; Jennifer Sauer; Jake Matter; Lucinda Noronha; Megan Meier; Terry Wordekemper; Ross Wittman; Back row- Christin Ryer; Alejandro Araya; Brandon 'Giff' Gifford; Tony Guenther; Tim Fossen; Jake Jones and Ryan Domeier. Not pictured: Sean Stocker, Les Craighton, Andrea Lindsey, Jamie Goodwin, Malissa Hess, Anthony Poorman, Scott Rhoads, Don Reynolds, Taylor Mauer and Jake Cummins.
About Christensen Farms & Feedlots, Inc.
Christensen Farms is one of the largest, family-owned pork producers in the United States, marketing approximately 3 million hogs per year. Headquartered in Sleepy Eye, Minnesota, the company operates throughout the Midwest with facilities in Minnesota, Iowa, Nebraska, Illinois and South Dakota. Christensen Farms owns four feed mills, manages 145,000 sows on 44 farms, and oversees more than 350 nurseries and grow finish sites. The company employs nearly 1,000 people and maintains 1,500 contract partnerships.
The company is vertically integrated with a strong presence across the pork value chain – from farm to fork. Christensen Farms is the largest shareholder of Triumph Foods LLC, a producer-owned primary pork processing plant in St. Joseph, Missouri. In turn, Triumph Foods members own 50 percent of Daily's Premium Meats, a specialty pork processor of bacon and other premium pork products. Triumph Foods also holds a 50 percent partnership in Seaboard Triumph Foods, LLC of Sioux City, Iowa, a primary pork processing plant.