In honor of Veteran's Day, Christensen Farms donated a total of $10,000 to Veteran's support organizations across the Midwest. The organization collaborated with local groups in 13 communities in which it operates to provide donations to help support our veterans.
"At Christensen Farms, we are committed to helping strengthen the communities we operate in, with the support of veterans being one of the core focuses within that commitment," said Amber Portner, Christensen Farms Communications Manager. "It is our hope that this donation will help provide some support to those who have nobly served our nation with the essentials they need, every day."
The following communities and Veteran support organizations received donations from Christensen Farms this Veteran's Day holiday: Disabled Veterans of America, Chapter 15 (New Ulm, Minn.), Disabled Veterans of America, Chapter 33 (Marshall, Minn.), Disabled Veterans of America, Chapter 24 (Montevideo, Minn.), Disabled Veterans of America, Chapter 34 (Willmar, Minn.), Disabled Veterans of America, Chapter 32 (Fairmont, Minn.), Family Alliance for Veterans of America (Forest City, Iowa), Brushy Creek Honor Flight 13th (Estherville, Iowa), Allison Amvets (Allison, Iowa), O'Neill American Legion, Post 93 (O'Neill, Neb.), Disabled Veterans of America, Chapter 8 (Norfolk, Neb.), American Legion, Post 8 (Pierre, SD), Disabled Veterans of America, Swanson O Connor Chapter 13 (Aberdeen, SD), and American Legion Post 211 (Paris, Ill.).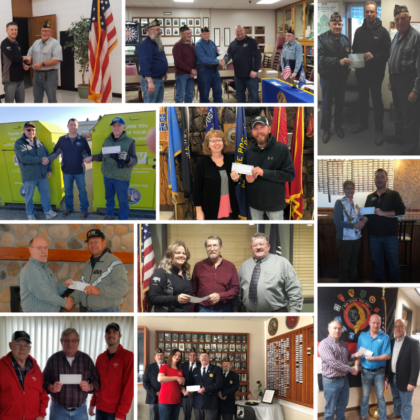 About Christensen Farms & Feedlots, Inc.
Christensen Farms is one of the largest, family-owned pork producers in the United States, marketing approximately 3 million hogs per year. Headquartered in Sleepy Eye, Minnesota, the company operates throughout the Midwest with facilities in Minnesota, Iowa, Nebraska, Illinois and South Dakota. Christensen Farms owns four feed mills, manages 143,000 sows on 44 farms, and oversees more than 350 nurseries and grow finish sites. The company employs nearly 1,000 people and maintains 1,500 contract partnerships.
The company is vertically integrated with a strong presence across the pork value chain – from farm to fork. Christensen Farms is the largest shareholder of Triumph Foods LLC, a producer-owned primary pork processing plant in St. Joseph, Missouri. In turn, Triumph Foods own 50 percent of Daily's Premium Meats, a specialty pork processor of bacon and other premium pork products. Triumph Foods also holds a 50 percent partnership in Seaboard Triumph Foods, LLC of Sioux City, Iowa, a primary pork processing plant.