The Minnesota Pork Board recognizes Laura Sherman of Hendricks, Minnesota, as this year's Swine Manager of the Year award recipient.
The pork industry is comprised of hard working, innovative, leadership-focused individuals who make up the collective whole. Leadership stems from the top of the totem pole; as a dual-farm manager for Christensen Farms, Laura Sherman encompasses everything a leader should be: respectful of all employees regardless of title, determined to grow each individual on her team, and possessing the drive to work through differences and challenges.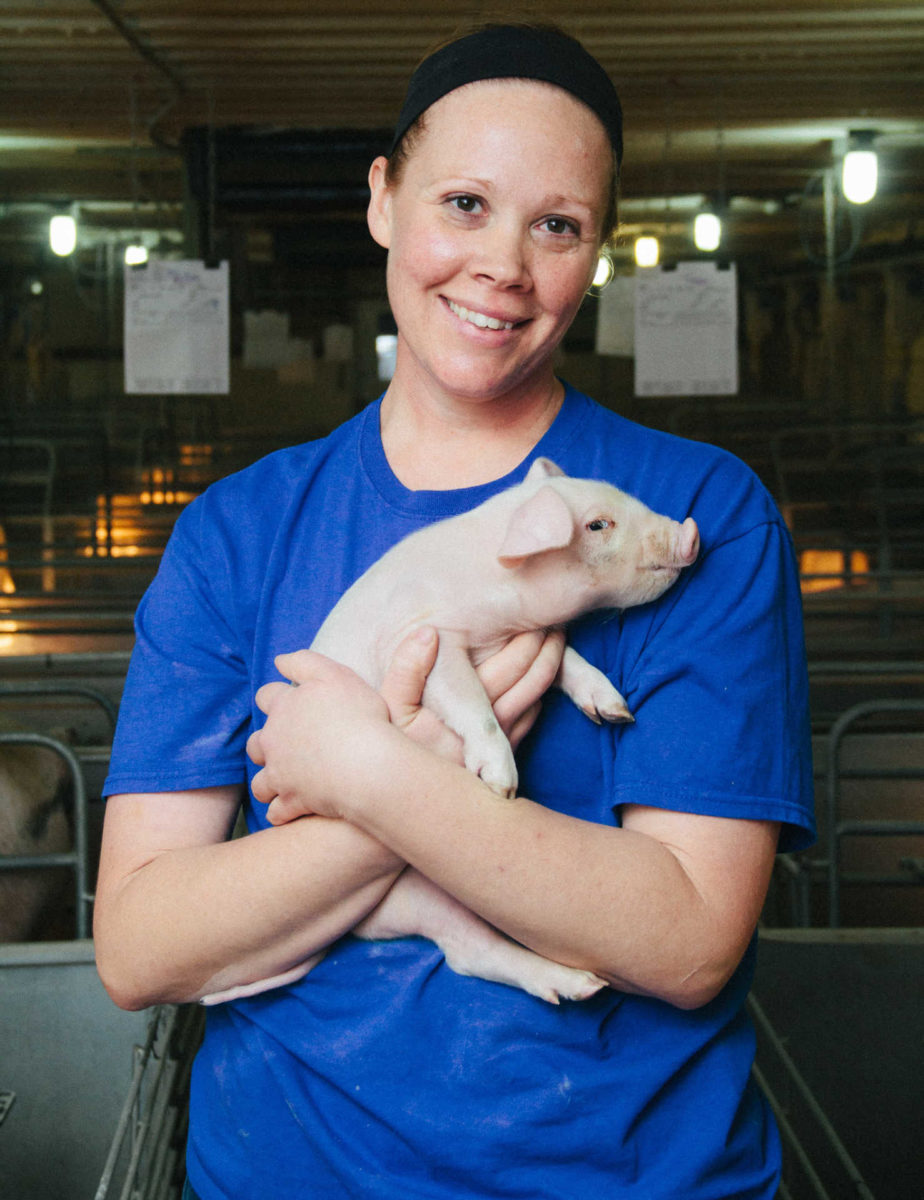 Pathway to Passion
Sherman grew up in Salem, South Dakota, where her family had a feed business. Together with her siblings, Sherman had exposure to different animal agriculture pathways on daytrips with their father cleaning and filling creep feeders for calves, as well as with a few recreational horses at their home.
Sherman's first experience in the swine industry occurred during her high school years, when she was asked to assist in running the agitator for her grandfather's liquid manure hauling business. Sherman would later realize this experience served as the cornerstone for her journey in the pork industry.
Several weeks later, the owner of the barn reached out to Sherman to fill in for a staff member going on maternity leave. After school, Sherman learned from the owners how to tend to sows, help with processing litters, and assist throughout the barn as needed. Proof of an aspiring sow farm manager, stillborns at the farm were significantly reduced under Laura's watchful care. On the weekends, she had the opportunity to see other operations in the barn including breeding and nursery.
Her college career at South Dakota State University (SDSU) didn't lead her straight to pigs, as most of her collegiate extra-curriculars revolved around sheep and horses. It wasn't until she had finished college and spent a few years managing a horse farm that she found her way back into the pig world.
During an interview with Christensen Farms, her past experience with farrowing stood out, leading the team to direct her to a sow farm. Thirteen years later, and Sherman still finds herself working with sows and piglets in breeding and farrowing barns.
"I'm so thankful I was asked to come and help with the pigs in high school," stated Sherman. "Without that opportunity, I probably never would have applied for this job, simply because of fear of the unknown."
Making Her Way to Manager
Sherman's first role at Christensen Farms was spent as an entry-level herdsperson, little by little gaining more responsibilities, and working her way up to a farrowing assistant, farrowing lead, and eventually a manager within five years. Her latest promotion to dual-farm manager occurred in 2017, when she was given the unique responsibility of two separate sow farms on the same property.
On a daily basis, Sherman's duties vary from analyzing production numbers, maintenance preparation, and providing a safe work environment, but her primary focus lies in training and development.
"I really enjoy working with people on becoming leaders themselves," Sherman noted. "Encouraging people and teaching people about the pigs and about the industry is one of my favorite parts of my job."
Opportunity to Lead
One Sunday afternoon in 2014, Sherman received a call from her manager asking her to go to the farm to meet a group of potential employees. Later that day she met a group of Karen, an ethnic group from Thailand and Burma. Following a farm tour that day, she was excited to hire three individuals, and one month later four more, all of which still work on her farms today.
Her first highlight as a farm manager with a new team was ranking in the top 3 farms of the company. Sherman embraced the opportunity to share her passion of teaching others about pigs, and her new teammates had risen to the challenge of learning not only a new language, but also about pig production in the United States.
"There was a language barrier, so all the training we did was very hands-on," described Sherman. "In all the training we do even today, it's important to use vocabulary people understand, including foreign languages or communicating to those that are unfamiliar with agriculture."
This approach builds trust, and has offered greater opportunities for new recruits. Connecting with people in ways they understand creates an environment where new team members don't feel behind or out of the loop.
Additionally, in her role of developing employees, Sherman began to encourage members of the team to explain certain processes or answer questions instead of herself.
"If I knew a team member could clarify something well enough, I would ask them to speak up. Not only does it provide them with a leadership role, but it makes them a resource for others if I am gone for the day," Sherman explained.
Sherman believes the culture inside her farms is reflected by the relationships built between team members. Double the farms mean double the team members to manage and build relationships with. Part of the deep connections shared with her employees stem from the entire team helping each other on and off the farm. As a manager, one of her goals is to make sure every employee feels appreciated, valued, and like a true part of the work family.
Every fall, Sherman plans a potluck at her house inviting team members and their families. Family celebrations such as weddings and new babies, along with individuals achieving their American citizenship status, are celebrated throughout the barns with homemade cakes and a picture board for everyone to see.
"It's special to see the things you continually work for everyday hanging in the office," Sherman explained. "Most people have pictures of their kids at their desk, so creating the picture board made sense. There are pictures of babies, kid's school pictures, wedding pictures, and of grandkids in the newspaper hanging. We also include group pictures from pizza parties and the annual picnics. It's fun to see these things throughout the day."
Engaging in the Community
Sherman and her team continually promote the pork industry and Christensen Farms in the local community and beyond. Sherman visited the Minneota and Hendricks high schools and shared her expertise on the pork industry, as well as talked about opportunities for young people to explore employment with Christensen Farms.
During the Hendricks 2019 Homecoming, Sherman brought a weaned pig to the elementary school, where students learned about what pigs eat, how fast they grow and why some pigs have spots. The pig was the star of the "Kiss the Pig" contest, where students got to select the faculty member who had their chance to get up close and personal and kiss the pig. After the big event, Sherman worked with the local 4-H club to identify a deserving 4H'er to donate the pig to.
Sherman and her team are also staples in the Hendrick's Homecoming parade. In addition to engaging in the local community, Sherman has spent time at the South Dakota State Fair in Huron, SD, continuing to share her passion for pigs with fairgoers.
Closer to home and within the Christensen Farm's company, a regional employee appreciation picnic is held annually, this last year's taking place in Marshall. Instead of sticking with the status quo, Sherman transformed the picnic into a networking event, inviting different departments throughout the company to set up booths so production workers could see all the different opportunities the company offered, as well as build relationships with people in different departments. Marketing managers, veterinarians, health and safety experts, and many more gathered for a day of networking and connecting with each other.
"Networking with peers and others in the company and industry is necessary for me as a manager. Exchanging ideas and learning from others has helped me grow and gain confidence. This picnic was a way to help create those opportunities for myself and others," Sherman stated.
When asked who influenced her leadership and career most, Sherman said it was the leaders with whom she built a strong, trusting relationship with.
"Leaders that pushed me beyond my comfort level, supported me when I questioned myself and provided guidance, resources and feedback to help me be successful. Chad Ebert is one of those people," noted Sherman.
"Laura has risen to become a well-respected member of her community and the swine industry," stated Chad Ebert, Sow Service Manager at Christensen Farms. "She is passionate about the work, sharing her love for agriculture with others. Most importantly, she deeply cares for those she works with. She is relentless in her pursuit to ensure a purpose-filled life, not just a "job", for her team."
Throughout her years as a manager, she has made an effort to not only push herself for further personal and professional growth, but also encourages each of her employees to strive for continuous development. Laura Sherman exhibits the qualities every person in a leadership role should have, and is well-deserving of the Swine Manager of the Year award.
Source: Minnesota Pork Board